When Gannon and I moved into our new home we soon realized we had very little furniture. We are talking about moving from a 1,350 sq ft house to almost  3,600 sq ft. Obviously in a dream world I would of loved to go out and completely fill up our house in the first month with amazing new furniture. So after reality set in we decided the first room we were going to work on would be the dining room. When you first walk into our house Gannon's office is on the right and our dining room is on the left. So it's one of the first rooms you see walking in. When we started to look for dining room tables Gannon kept telling me that he could basically build any of the tables I liked. I knew I wanted a farmhouse table and something that could seat as many as possible. I couldn't quit thinking about all the GORGEOUS tables at Restoration Hardware like this one..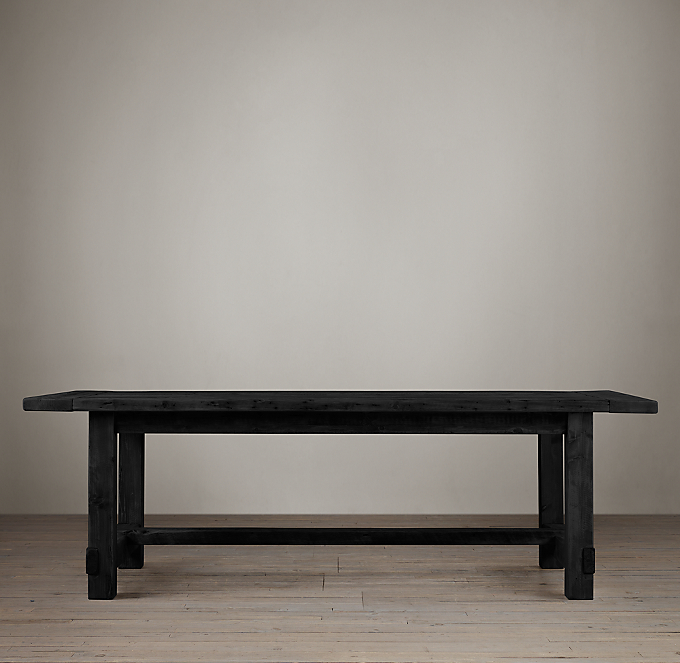 but with it costing around $3,000 it just didn't seem practical for us. So after much research I found a very similar plan for this table on ana-white.com . Her website is amazing because it tells you your shopping list, the cuts you need to make, and how to put it all together with PICTURES. I honestly feel like if I had the patience I could build anything off her website myself. But I kind of like having the "quality time" with Gannon and watching him do manly things like that 🙂 Plus he is the most patient person I know and teaches me different things along the way. I seriously am so blessed to be his wife!
So with all that said we took on the challenge of building the table and it turned out better than I could of ever anticipated and it only cost us around $300 with wood and a few other supplies we needed! That totally beats paying $3,000 and it will always have a special place in my heart knowing the hard work that went into building it with my sweet husband!
Here a few pictures of the process..
Please ignore our very messy garage 🙂
Well that's all I think I can handle for today but later on I will explain how Gannon and I did the wainscoting and show a little about the bench he made! Hope you all have a wonderful day!
Hugs,
Kate